LFBC™ Lateral Flow Bio Containment Isolator for HPAPI Processing
HEPA inlet filter for internal ISO 5 or better cleanliness
Containment for OEB 3-5 below 30ng/m3 depending on process and application
Designed for working with HAPI, ADCs, Oncology and biologic products in many applications and equipment, including balances, ovens, FTIR, sieves, and many more
THE NEXT LEVEL OF CONTAINMENT
Designed as the next step in containment above the Flow Sciences Hybrid Isolator, this unit is able to effectively protect operators from exposure while meeting or exceed ISO 5 for cleanliness. 
BAG-IN/BAG-OUT TECHNOLOGY
Flow Sciences Top Mount Safety Enclosure with Bag-in / Bag-out (BIBO) Filtration is engineered to provide a safe, stable working environment in laboratory settings. The BIBO filter is designed for safe disposal and replacement of HEPA filter by a certified technician. Watch the video:
| | |
| --- | --- |
| Construction | Polypropylene frame with acrylic panels (EGP Series) Polypropylene frame with glass panels (EGG Series) Custom options available in amber acrylic and other materials for viewing panels Custom options available in stainless steel |
| External Width (in) | 48 | 60 | 72 |
| External Depth (in) | 30 |
| Interior Height (in) | 24 |
| Base | Standard phenolic resin dished base Tri-Clover Male (Female sold separately) No base (custom option) |
| Exhaust | A - FAN/BIBO* - Recirculate or connect to house exhaust *see BIBO in Feature and Benefits Section B - MESH FAN/BIBO* - Recirculate *see BIBO in Feature and Benefits Section |
| Voltage/Filter | *see Voltage/Filter Options graphic below table |
| HEPA Inlet Filter | Right or Left Side |
| Table | No Table Powder Coated Steel Stainless Steel Adjustable Lift |
| Velocity alarm (visual and audible) | Integrated into the fan |
| LED light with adjustable angel | White Amber (custom option) |
| Hinged Front Lift Door | Opens vertically to load and unload equipment |
ADD-ON OPTIONS & SIDE PORTS
Berkshire Cleaning Kit
Contact Flow Sciences for kit description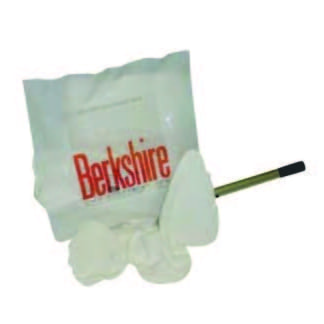 | Blank Plate | No side port needed | |
| --- | --- | --- |
| Continuous Liner | FS2092 & APS0825 – Designed to eliminate cross contamination of powders, protecting the person, plant, and product. Long lengths of pre-packaged liners reduce operator labor. | |
| Double Safe Waste Chute | FS2091 – Double Bag system for disposal of waste or other materials. Designed specifically for the universal/master port of the EGP and EGG. | |
| RTP Alpha Port | FS2093 – Accommodates a 105mm RTP Alpha port for connecting various betas or other containers. | |
| Transfer Box | Polypropylene construction with access door to move materials in/out of the enclosure. | |
| Customized Master Port | The blank plate can be customized to install iris ports, services, transfer systems, and more. | |
CUSTOM GLOVEBOX WORKSTATION SYSTEMS
Working with a specific piece of equipment? Our design history has led to many custom solutions created for equipment that is highly likely to be similar or exact to your specific equipment.
Our sales, engineering, and project management staff begin by creating a unified understanding of every customer's process and goals through the completion of the Custom Quote Request Form.