LESS DOWNTIME, MORE PRODUCTIVITY.
Flow Sciences, a leading provider of containment systems for laboratory, pilot plant, and manufacturing facilities, delivers low cost of ownership and high return on investment. By utilizing intricate engineering and design into the construction of enclosure, they are able to achieve exceptional filter life. Airfoil and interior plenum innovation allows the company to match personnel protection with minimal interior powder-deposition and optimal contaminant distribution across the filter surface.
Flow Sciences' top-mounted fan design allows the filter to last for 4 to 5 years and prevents powder "recoil" back into the enclosure. A clean workspace means no cross-contamination. All of this means less downtime and more productivity!
With the Flow Sciences Advantage, you are able to enjoy the following features:
Lower Cost of Ownership: 4 to 5 year filter life, 4" pleated HEPA filters, and vibration reduction on the work surface yields an exceptionally low cost of ownership.
Ultra-Micro-Level Employee Protection: Flow Sciences' team of scientists and engineers have proven powder concentration outside of the enclosure to nanogram levels.
User-oriented Ergonomic Design: Go/No-Go alarm, hinged doors, and input left/output right design promotes ease of use and maximized efficiency of work.
Balance Stability: Flow Sciences' exhaust system design allows for consistent balance stability up to 7 decimal places. This is crucial for reproducibility and accuracy of weighing.
Vibration-Free Engineering: With intuitive engineering controls, there is no detectable vibration transferred to the work surface. This yields accuracy for sensitive equipment such as micro balances.
Reduced Energy Costs: Even powder-deposition onto the primary HEPA filter results in consistently lower energy costs per billing period.
Balance stability is absolutely imperative to performance, and is often the reason that containment becomes compromised.  
Often using workarounds in SOPs and safety can result in better performance, but at a serious cost.
Flow Sciences has championed the industry in airflow for over 30 years.  Holding numerous patents in airflow safety and design, Flow Sciences continues to use advanced engineering controls and airflow concepts to maintain the best personnel and/or product protection in the industry.  Alternative airflow designs exist, but often use antiquated methods or improper techniques that result in poor performance.  Below is an illustration of airflow in Class I Biological Safety Cabinets, Flow Sciences on the left and an alternative option on the right.  Notice the design differences and the role they play in reproducibility and performance.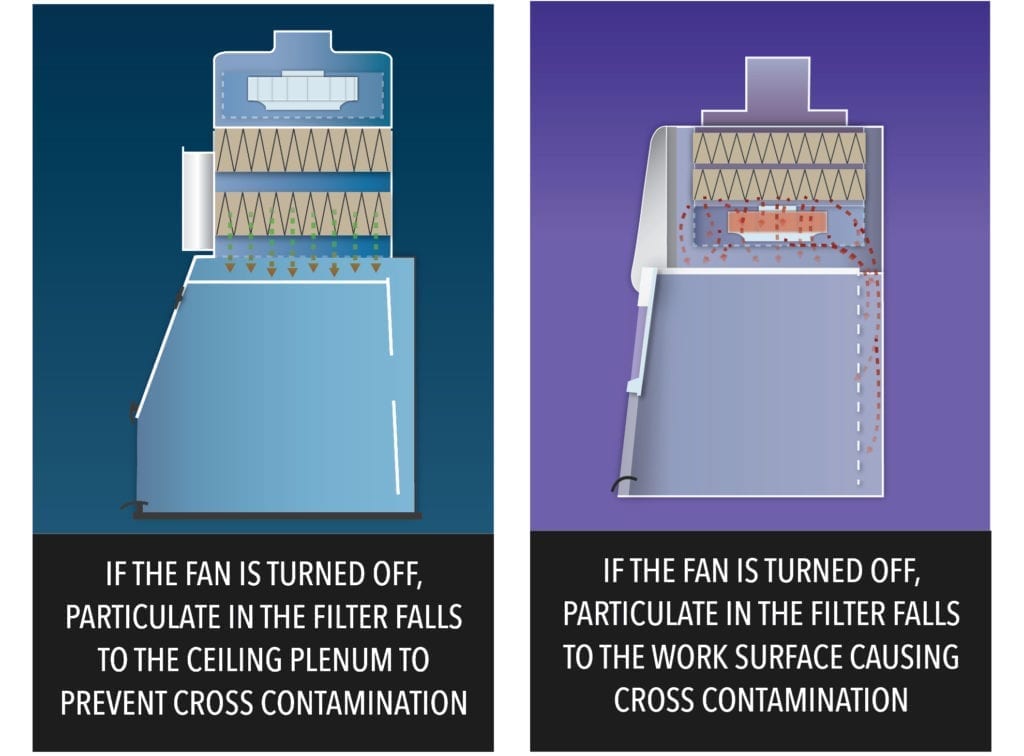 ABSTRACT: This paper discusses the primary benefits of the vented balance enclosure. Critical to the operation of laboratories are the safe and effective weighing of potent powder compounds, active pharmaceutical ingredients and nanomaterials. Parallel challenges for fast accurate weighing with proven safe containment for product and personnel protection create continued demand for an enclosure that meets both functionality and performance…. Read More
Unlike Alternative Technology, Flow Sciences Units Can Be
CLEANED FROM FACE OPENING TO HEPA FILTER
Leaving NO Uncleanable Areas and Preventing Cross Contamination
TESTING & CONTAINMENT PERFORMANCE
Flow Sciences possesses a laboratory capable of testing products for conformance to the relevant standards (ie. ASHRAE 110-2016 Tracer Gas Testing).  Every unique enclosure or hood that is manufactured in the facility is tested to these standards to ensure quality and performance to the ISO 9001:2015 standard.
Additionally, the facility can be used to perform further testing, using surrogate materials to determine expected enclosure containment capabilities.  This factory acceptance testing using surrogate materials is often accompanied by a third party industrial hygiene group, as well as the customer.  This helps to replicate the end process exactly, and also to suggest SOPs and GLPs for best use of the equipment.
Performance is paramount in the safety industry, and through consistent quality design and expert manufacturing, Flow Sciences' units perform.  With surrogate powder testing both in our facility as factory acceptance testing and at the customer facility as site acceptance testing, Flow Sciences consistently exceeds our customers' expectations with containment targets and goals.
CLASS I BSC – DUAL HEPA
Containment Target : .05 µg/m³
Surrogate Powder Test Result : .0001 µg/m³
Equipment : Funnel, Balance
Operation : Weighing, Transferring
The most difficult element to achieve is proper use from the end user, which most companies do not consider.  Flow Sciences' design and engineering controls provide ergonomically comfortable conditions and promotes proper use.  Pairing with a Flow Sciences Containment Consultant allows users direct help with developing SOPs and GLP training.